Interviewed by Pastor Dre Henderson
9 August 2023
How was your life like before you got saved?
Struan says that before he got involved with drugs, he was a community leader and a coach. He was a sportsman and even studied. It was only when he started smoking drugs when life for him changed.
He got hooked on drugs for twelve years. Struan says that his addiction completely changed his persona, he became very selfish. He says he felt hopeless, and he knows that his addiction traumatized his wife and family.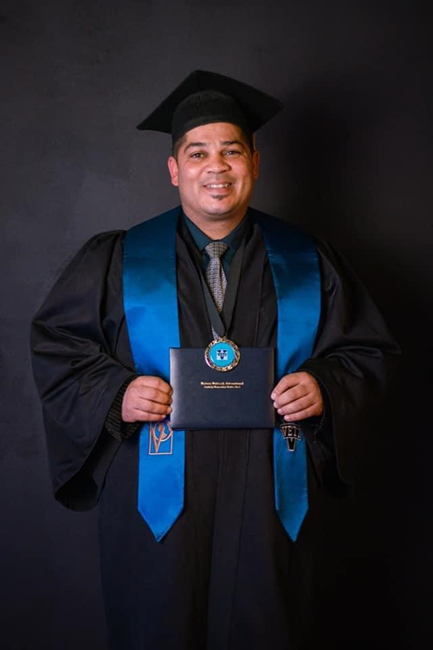 How did you end up changing?
Struan's life changed in prison. He says that he attended a bible study in a prison cell. This led him to praying and calling out to God. It was in prison where God gave him a promise.
He felt the spirit of God telling him that of he does the right thing, God would then open doors for him. Soon after Struan was released from prison and continues to serve God.
What is God doing in your life today?
Struan says now that he serves God, he is a changed man. God restored his family. God is using Struan's life in church and in the community and he says he is so grateful to God for changing him.
He says he is also particularly grateful for the family of God in Victory Outreach, because they supported him and helped him to come closer to God.
He is most blessed by being a part of spreading the gospel.
A word of encouragement from Struan:
"I want to encourage the listeners here today you know; you might find yourself in a difficult position. You might find yourself in the same shoes that I was in, but you know I want to let you know that your story is not done yet. When the Lord saved me, He didn't just save me, He saved my entire family.
He restored everything. Today I am a graduate of our Bible study. I finished my theology. Today I have my own business. I have an engineering workshop. I can employ people, even people that are from our church.
I can do a lot of things now that I am in Christ and so I want to encourage somebody out there, listen, your story is not done yet.
You still have a story to tell. You still have a book to write and then you still have something to do for God and so I want to encourage you don't give up, don't give up because God is still about to do something in your life and so I want to let you know, that God is doing a new thing and it doesn't matter what you did in the past.
The Bible says as far as the east is from the West so far as it erases our sins. To the person that is listening today I mean I want to encourage you not to give up because your story is not done."   
Listen to "Struan Schutter Testimony" on Spreaker.
For more information about our church, go to our website at:
Third Wave Nights – Fridays at 19:00pm
GANG services @17h00 every Sunday
Sunday morning service at 08:00am & 10:00am
For more information about our Recovery Homes
Contact details are:                                          
061 407 9474/021 691 9575
You can also visit our contact us page.
Thanks for listening family. Stay blessed and stay connected.
If you missed out on today's radio segment, click here to listen to the full audio version of this testimony: