5 July 2023
Gabriel describes his life before he got saved, as a total disaster. He says his life was either headed for death or imprisonment. He felt like he had no future. He struggled with his identity, but when he found Christ, God restored his life and gave him purpose.
When Gabriel had an encounter with God, that is when he really changed. He says that there were so many times where he thought he knew what he should do but, in the end, it never worked, he needed the power of God to change him. People tried to change him or push him towards change, but he had to decide that he wanted it for himself.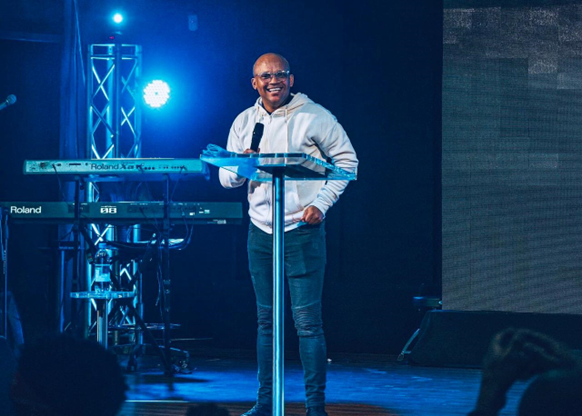 Today God is molding him and preparing him for a great assignment and that is to do his
work and make a difference in the lives of people. He feels blessed to be part of a ministry that helps restore people from any walk of life. He says that he serves because he knows that if God can do it for him then surely, he can do it for anyone in need.
"At this moment I just want to let you know that it is not by accident that you have tuned into this radio frequency at this moment and time but I believe that God has set up a divine appointment so you can have your encounter.
If I can encourage you, I'd like to let you know that you are alone. The enemy wants to always get us to a place of isolation and wants us to feel that God has rejected us. Oh, I remember when I was in my darkest and I felt like no one was there but trust me God was there, carrying me and sustaining me.
It doesn't matter what you are going through, it might seem impossible, might seem like the clouds are all grey and that you're in the midst of the storm, but I believe that your sun will shine again. Joy will be your portion.
If God could do it for me and change my life and turn it around… Today, I can speak to you and encourage you and tell you there's hope and it's not because of what I've heard but because of what I know. I believe that God will do the same for you."
Listen to "Gabriel Testimony – July 5th 2023" on Spreaker.
For more information about our church, go to our website at:
Rain is here Revival with international evangelist, Tim Rabara starts 1 July @ 6pm and 2nd – 4th July @ 7pm.
Third Wave Nights – Fridays at 19:00pm
GANG services @17h00 every Sunday
Sunday morning service at 08:00am & 10:00am
On the 7th July @7pm, the Rise Up Radio Show will be live @ Victory Outreach Church of Cape Town, 123 Voortrekker rd.
For more information about our Recovery Homes
Contact details are:
061 407 9474/021 691 9575
You can also visit our contact us page.
Thanks for listening family. Stay blessed and stay connected.
If you missed out on today's radio segment, click here to listen to the full audio version of this testimony: