Check out this power Testimony of Bradley Little and how he is using his gift to produce Christan Rap Music.
28 June 2023
Before coming to know Christ Bradley says he was lost. He was just a kid who wanted to play sports and his life veered off. He says his parents divorced when he was a young boy. His dad was a drug addict who was sent to prison when Bradley was only 11 years old.
He was hurt and started to make poor choices. At the age of 13 he had his first case. At 18 years old he was sent to prison and later joined a prison gang. He was homeless and lost himself. He says life before Christ was not nice.
"Well, I changed, and it was it was through Victory Outreach honestly. It was one flyer that changed my life but to be honest it wasn't an overnight change, it took work, it took commitment, faithfulness, God's miracle working power.
And I needed help I needed a lot of help; I had symptoms of PTSD from knife fights in prison and I didn't know how to get help with that stuff. I thought flashbacks and stuff only happened in the movies but those are just some of the things I was experiencing.
I was broken hearted, just mad at the world. I even had a chance to pursue my dream and play baseball later after I had was released and that didn't work out due to injury and stuff but now, I see that God just had a bigger plan.
He had a better plan for my life so I can say proudly today that I'm doing my best life ever I have the privilege of serving here in Cape Town as a full time missionary. I'm a bible college graduate and it's just no limits to where God can take me, I'm extremely blessed."
Today he is in the ministry of rap. He says rap is a strategic and cutting-edge way to get the youth interested in Christ. He serves as a missionary in Cape Town, coming from North California in the USA.\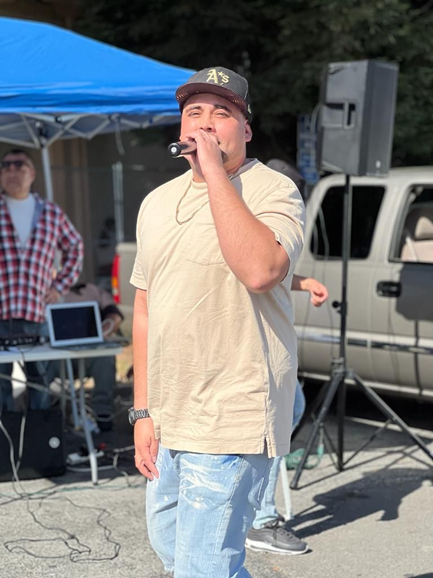 Bradley encourages by saying that you should "Get next to somebody, get connected. If you can dance, if you sing, if you if you can draw, if you're into artwork, if you can write music, if you can act or write plays and write scripts.
God has placed a gifting in each one of us and I believe it's up to us to identify those things or get next to a leader that can help identify those things and help develop those things and cultivate those things so we can maximize our effectiveness for Christ.
Keep connected, pray for it, seek the Lord and ask him to reveal those things. If you are not sure already then put those things into use because the enemy tries to sway us and tries to keep us from operating in our power spot.
I did that for too many years, and I want to break that I want to help get people realize their potential. No matter what age group you are. You still have something to offer to the Lord and, for sure, just go for it.
I come against anything trying to distract you or hold you from where you need to be, at your fullest potential, in the name of Jesus."
Listen to "Bradley Little Testimony – June 28th 2023" on Spreaker.
For more information about our church, go to our website at:
Rain is here Revival with international evangelist, Tim Rabara starts 2 July @ 6pm and 2nd – 4th July @ 7pm.
Third Wave Nights – Fridays at 19:00pm
GANG services @17h00 every Sunday
Sunday morning service at 08:00am & 10:00am
On the 7th July @7pm, the Rise Up Radio Show will be live @ Victory Outreach Church of Cape Town, 123 Voortrekker rd.
For more information about our Recovery Homes
Contact details are:                                          
061 407 9474/021 691 9575
You can also visit our contact us page.
Thanks for listening family. Stay blessed and stay connected.
If you missed out on today's radio segment, click here to listen to the full audio version of this testimony: