Testimony of Nazley.
19 April 2023
Before Nazley came to know Jesus, she says she used to live in fear. She had many sleepless nights because her husband was on drugs. She says the drugs, tik, that he used, made him violent.
She remembers him coming home with a gun one night claiming that people were after him, as he was high on drugs, she did not know what to do because she was just so terrified.
Nazley says that her two teenage daughters looked at her and thought of her as weak. She says she was just so consumed with fear that she did not know what to do.
Nazley's husband and daughter went into the Recovery Home and her two sons were baptized at the ages of 13 and 14. Nazley says all of them now serve the Lord together. She says that it is only through prayers and obedient to God's word that she is where she currently is in life.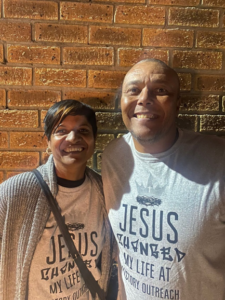 Today Nazley is blessed to serve in church. She says that the same house she lived in that used to be a drug den, is now a light house, where the community is welcome to come in for prayer.
She hosts life group at her house where she and her family encourage the people of the community to trust God. Her
husband leads in worship on the guitar. She says she is so blessed by God to be able to
witness how her daughter, who use to be on drugs, encourages other women to come to God instead.
"Woman, mother, wife, there is hope. There is hope in Jesus Christ. Accept Jesus Christ as Lord and Savior and have a relationship with Him. It was only God who could've done what He has for me and my family.
If you find yourself in hopelessness and in chaos, I need you to know that there is a way out – Jesus Christ is the only way."
Listen to "Nazley Testimony April 19th 2023" on Spreaker.
For more information about our church, go to our website at:
The Rise Up Radio segment – Live edition, will be coming to Mitchell's Plain on the 23rd April 2023 @ 17h00.
For more information contact: 081 471 1346
Third Wave Nights – Fridays at 19:00pm
Sunday morning service at 08:00am & 10:00am
For more information about our Recovery Homes
Contact details are:
021 691 9575 / 061 407 9474
You can also visit our contact us page.
Thanks for listening family. Stay blessed and stay connected.
If you missed out on today's radio segment, click here to listen to the full audio version of this testimony: