Testimony of Dawntaya Cooley.                                                 
12 April 2023  
Before Dawntaya got saved, her focus was aimed on school, she says she did not consider God in her life at the time. Her future success was the only thing she cared about.
Dawntaya's life changed when her mother decided to enroll her into the Urban Training Centre. The Urban Training Centre (UTC) is a bible-based christian institution aimed at the youth which aids in molding and shaping future leaders for the call of God.
Victory Outreach has several Training Centre's, internationally.
Dawntaya says she was not aware that her mother had planned to enroll her but after two months of being in the UTC she surrendered her life to Christ and looking back she is grateful to her mother for nudging her in the right direction.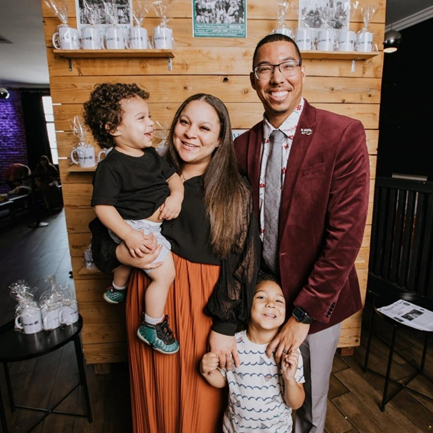 God is using Dawntaya in a powerful way.
She has been privileged to have been able to serve in her local church as staff in the UTC and then in the Women's Recovery Home in the USA. Currently, she and her husband serve as missionaries in Johannesburg South Africa.
She says she feels grateful to be able to assist in the ministry whenever or for whatever is needed, from admin to worship.  She feels blessed to be in the will of God.
Dawntaya's encouragement to someone who might be experiencing what she did is: "Stop running from the call of God. Completely surrender.
I recall that one of the reasons I did not want to get saved was because I was always afraid that I would backslide. Growing up in church I would see so many people come and go and I did not want to do that. I did not want to be that person.
I wanted to completely surrender to the Lord when I was ready, which is why I did not get saved but I was leaning on my own understanding. Surrender your life and plans unto Him, He will blow your mind.
Let Him use your life the way He wants to use it. Let Him plan your path. Don't lean on your own understanding. You will be surprised with what He does in and through your life."

Listen to "Dawntaya Testimony – April 12th 2023" on Spreaker.
For more information about our church, go to our website at:
Third Wave Nights – Fridays at 19:00pm
Sunday morning service at 08:00am & 10:00am
For more information about our Recovery Homes
Contact details are:
021 691 9575 / 061 407 9474
You can also visit our contact us page.
Thanks for listening family. Stay blessed and stay connected.
If you missed out on today's radio segment, click here to listen to the full audio version of this testimony: