Testimony of Reggie Cooley Jr.                                                   
5 April 2023 
Reggie gave his life to the Lord when he was 19 years old. After finishing school all he wanted was to be successful according to the worlds' standards. He enrolled himself into a college and studied Mechanic engineering.
He ended up living on campus residency. His focus shifted when he got involved with the wrong crowd eventully all he cared about was partying and endulging in sin.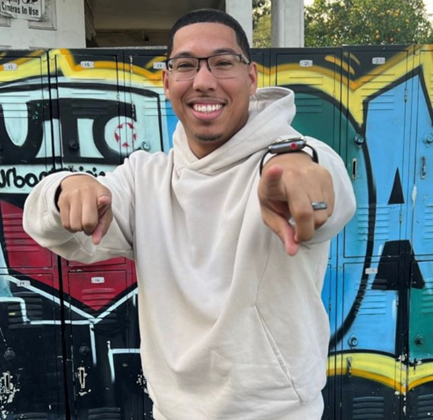 Reggie's life changed when he went to a Victory Outreach GANG convention, a year after enrolling into college.
His dad paid for his ticket, but he remembers not wanting to go because he knew God was going to do something in his life and he did not want to change.
At the time, in his mind he was fine, but he ended up going anyway.
At the convention he felt the call of God and went up for the alter call.
Soon after, he went to the UTC, there God shaped him and prepared him for his calling.
Since giving his life to God, Reggie has been fortunate to travel the world. He also re-enrolled into a different college and graduated with his bachelors in Christian ministry.
He met his wife in the church  and they have two boys and his wife is currently pregnant with a girl. He and his wife now serve the lord in a country halfway across the world from where he is from, in Johannesburg South Africa.
He and his family are grateful for how God is using them and they look forward to all that God has planned for their lives.
" To anyone out there who may be going through the same things I did, it could be regarding going to school or misusing alcohol or even secular success.
The word of God says to love the Lord with all your heart, with all your strength and with all your soul but it also states with all your mind. God wants us to be successful, but He wants us to be dependent on him. He wants us to put Him first in everything that we do.
Since I've done that I've been able to travel the world, be married and do different things. Today I am a homeowner and I own a business.
So, I want to encourage you, seek first the kingdom of God and His righteousness and all these things shall be added unto you. Watch God blow your mind and take you to new heights, depths and places you'll never imagine.
All we need to do is to say Yes to God. It was the best decision I could've ever made."
Listen to "Reggie Testimony – April 5th 2023" on Spreaker.
For more information about our church, go to our website at:
The Easter Production titled Guilty – Who Killed The King
Will be:
At Victory Outreach Cape Town,  123 Voortrekker road  in the Goodwood mall
@7pm on Friday the 7th April & and Easter Sunday the 9th April
Third Wave Nights – Fridays at 19:00pm
Sunday morning service at 08:00am & 10:00am
For more information about our Recovery Homes
Contact details are:
021 691 9575 / 061 407 9474
You can also visit our contact us page.
Thanks for listening family. Stay blessed and stay connected.
If you missed out on today's radio segment, click here to listen to the full audio version of this testimony: