Testimony of John Niegaardt – What a powerful testimony of God's love
1 March 2023
For 13 years John was addicted to drugs and involved in gangsterism. He was addicted to meth and mandrax. He says that as an addict he was willing to and did anything to support his habit. At the age of 17 John's father passed away, he took this very hard because his dad was a role model to him.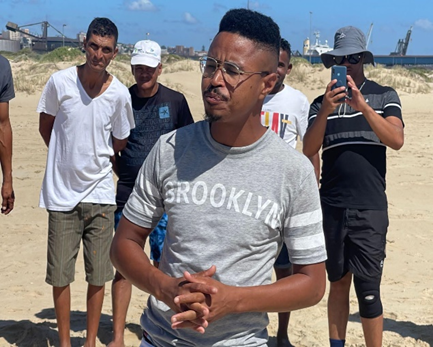 After losing his father he went astray. He involved himself with a gang and had to do things that he is ashamed of, to fit in.
He had a few robbery and theft cases against his name and eventually he landed himself in prison. 
After being released from jail he had nowhere to go, his family turned their back on him which forced him to be homeless and alone.
He did not want to return to the gang which caused many problems for him as his life was under threat. He remembers nearly being killed execution style and during that encounter a small voice told him to run and never look back.
John found himself facing a 7-to-10-year life sentence. He had nowhere to go. In this time, he realised that he had to change or spend the rest of his life in prison.
He went to Victory Outreach church and had an encounter with God. He then surrendered his life to Christ and says that his life has never been the same since making that choice.

John is currently in the Victory Home where God is healing him from his addiction. He says that he is also learning how to spread the message of hope by telling people about the plan of Jesus Christ.
He has been involved in evangelisms and dramas and has started to write his own gospel rap songs. He is also a part of the worship team in church.
"I just want to encourage somebody who finds themselves doing drugs or addicted to it. You do not have to live life that way. There is a way out. The way is called Jesus Christ.
Give your life to God and He will set you free and give you peace that surpasses anything you could ever imagine. If He did it for me, someone who was completely hopeless, then He can do it for you. God bless."
Listen to "John Niegaardt Testimony – March 1st 2023" on Spreaker.
For more information about our church, go to our website at:
Third Wave Nights – Fridays at 19:00pm
Sunday morning service at 08:00am & 10:00am
The Rise Up Radio segment – Live edition, will be coming to Port Elizabeth.
For more information contact: 064 375 7289
Tune in to our TV program Treasures on TBN Yethu Channel 364 every Friday night @ 8:30 pm.
For more information about our Recovery Homes
Contact details are:
021 691 9575 / 061 407 9474
Thanks for listening family. Stay blessed and stay connected.
If you missed out on today's radio segment, click here to listen to the full audio version of this testimony: www.vocapetown.net/radio