Here is a powerful testimony of a young man who went through our Victory Outreach Mens Recovery Home.
Testimony of Pastor John Louw
15 February 2023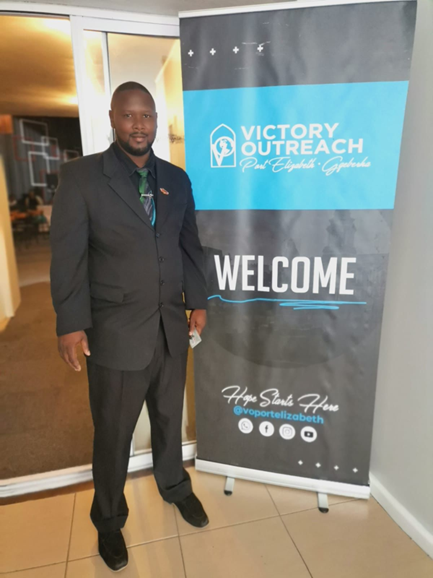 John grew up in a good household. His father was a preacher who served the Lord faithfully and his mother supported his father and served the Lord joyfully as well.
He done well in school and was an accomplished rugby player who represented his province.
Unfortunately, he injured his arm and could no longer play professionally and that's when his focus shifted, and he hung out with the wrong crowd.
He was introduced to a different style of music and started to idolize the rappers and wanted to imitate them.
He thought to himself that the only way he could achieve what they had was if he sold drugs. Soon after that he found himself involved in gangsterism.
There came a season in John's life where things spiraled out of his control. Many of his friends started to die or went to prison. There was a crying on the inside of his heart that he believes only God could hear.
He was looking for a way out, crying out to God to make a way so that he can be freed from his lifestyle at the time. God made a way for him to go to Cape Town and enter the Recovery Home. It is there where God transformed his life and revealed the purpose He had for John.
Today John serves as a missionary in Port Elizabeth. He feels blessed to be back in the city he grew up in.
He further goes on to say: "I am privileged to be in the city where I tore families apart, where I broke down lives and where I hurt many people. But I thank God that He is using my life to do the exact opposite.
Today I am bringing hope to the people. A message of hope to those who are broken and think that they don't have a purpose in life. I am just honestly grateful to be serving in the kingdom of God."
John's encouragement to anyone who is currently at a place in their life where they feel useless and stuck is to not give up. "You don't have to die a drug addict, because there is a God that loves you and cares about you deeply."
He always thought he would die in drugs, die a gang member, die on the streets but God had a plan for his life. "God saved my life. For fifteen years I thought I was going to die on the streets, but God had great mercy on me and that same God – Jesus, can change your life. There is hope in Jesus."
For more information about our church, go to our website at:
Third Wave Nights – Fridays at 19:00pm
Sunday morning service at 08:00am & 10:00am
The Rise Up Radio segment – Live edition, will be coming to Port Elizabeth.
For more information contact: 064 375 7289
Tune in to our TV program Treasures on TBN Yethu Channel 364 every Friday night @ 8:30 pm.
For more information about our Recovery Homes
Contact details are:
021 691 9575 / 061 407 9474
Thanks for listening family. Stay blessed and stay connected.
If you missed out on today's radio segment, click here to listen to the full audio version of this testimony: www.vocapetown.net/radio