Testimony of Unathi Sonkwala
11 January 2023
"It is an honour to and a privilege for me to be part of this show. My name is Unathi Sonkwala, all the way from Gugulethu. I thank God for this platform, for me to be able to share my testimony. This is the purpose for us to be saved, to fulfil the Great Commission.
To testify and let people know that the power of the holy ghost is relevant. I pray that as you become a witness of my testimony, that you would have an open heart to receive the gospel. I am believing for breakthrough in Jesus' name Amen."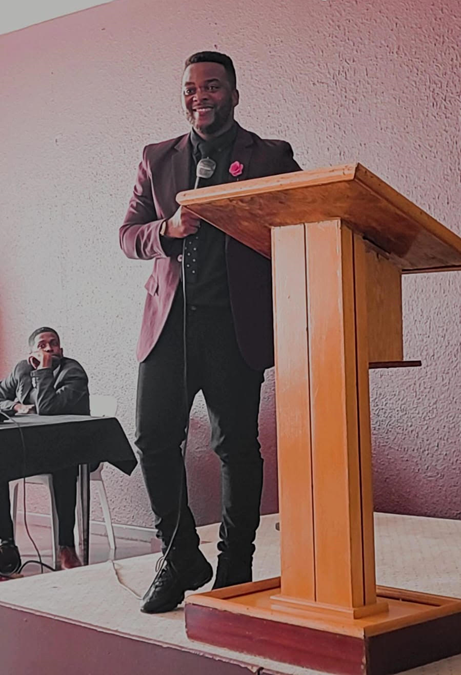 Unathi grew up in a family house with lots of women. He recalls hating Father's Day because it reminded him of how his own father left him. He felt rejected and not good enough. He did not have many male figures to look up to. He then turned to the world to look for meaning.
He grew up poor and was attracted to the people who looked like they were rich and had it all together. It was only after involving himself with those people, that he realised what the cost was to look the part. He then became a gangster like them and not long after that he became a drug addict.
Going in and out of prison was a norm for Unathi. He was on trial for three domestic violence cases. Gruesome assault. Intention to kill. And robbery. He thought he was never going to be freed.
His intentions were always to gain a reputation among the gang. It was in a prison cell where God reached him. He recalls feeling suddenly overwhelmed and having to hide while crying so as not to look weak.
He challenged God to take him out of prison and the very next day the judge released him. The judge asked him if he wanted to change and released him to Victory Outreach Recovery Home. He is still actively involved at Victory Outreach church of Cape Town.
After graduating from the Recovery Home, Unathi went to the UTC which is a bible college. He then went on to direct the Recovery Home in Bloemfontein for two and a half years.
He is currently part of a team that is situated in Section 2 and 3 Gugulethu and Heinz Park in Philippi. This team encourages and uplifts the community. 
Unathi's encourages by saying, "You're not alone." He referred to a scripture found in the book of Ephesians 6:12. "For our struggle is not against flesh and blood, but against the rulers, against the authorities, against the powers of this dark world" he says that we should focus on using prayer as a weapon. "No longer do we fight with our fists but with the word of God"
He says that we should surround ourselves with the right people. People who will lift you up and not break you down. "Give God a chance, I didn't regret it and I know you won't either."
Listen to "Unathi Testimony – January 11th 2023" on Spreaker.
For more information about our church, go to our website at:
www.vocapetown.net
Third Wave Nights – Fridays at 19:00pm
Sunday morning service at 08:00am & 10:00am
For more information about our Recovery Homes
Contact details are:
021 691 9575 / 061 407 9474
Thanks for listening family. Stay blessed and stay connected.
If you missed out on today's radio segment, click here to listen to the full audio version of this testimony: