Testimony of Hannah
16 November 2022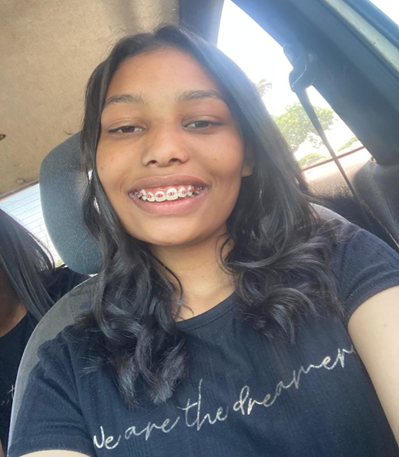 Wow, what a powerful testimony of a young lady, who was broken, who hated herself, who was very insecure, about anything and everything concerning herself.
She used to look in the mirror and tell herself; you are useless, you are hopeless, you are worthless, you are stupid, you are not beautiful, nobody loves you. To escape from her emotional pain, she turned it into physical pain. She started cutting herself, her arms, and her legs as well. She also distanced herself from other people. Nobody really noticed because it was around the start of winter. She really hated the pain and hurt she was feeling deep inside.
Her brother was a leader in the High School Impact ministry within Victory Outreach Church, and he invited her to attend a session. She remembered that her brother let her sit right in front of the church. She was thinking, ok, this was cool. She also remembered the powerful word that went out. When they did the alter call, she went forward, broken. She cried out to God that she needed Him in her life.
She gave her heart to Jesus at the tender age of 13 years old. She will never forget that day, because that was the day, she also met some high schoolers, and she became very close friends with them. It was such an amazing turning point in her life. She felt way lighter than when she came in. She felt like God took all her pain and hurt away and made her feel new.
Obviously, the process of changing was not immediate, but gradually she started loving herself, started getting more involved, she started making new friends, started believing and loving herself. That she can do something, that all the devil was telling her was lies. That she is a child of God, she felt way better than she was before.
Currently, she is a part of the HSI team, as well as the 3rd Wave team. God is using her in a powerful way. She is helping high schoolers from her age group, who finds themselves lost and hurting, to tell them about the love of Jesus Christ. Ultimately helping them in their walk with Christ. Teaching them that they are not alone, that they are all in this together.
Her word of encouragement to someone is to never give up. You should not believe in the lies of the enemy, even if it sounds true. It really is not, even if you feel that nobody loves you, God loves you. God is your friend. God is someone you can always go to, to lean on. Ultimately, He is the only one who can save you from your pain and hurt. No amount of money, drugs, alcohol, weed, cigarettes, or anything like that, is going to help you. It is only God that can help you. You must just be willing and able to allow God in your life.
For more information about our church, go to our website at:
Third Wave Nights – Fridays at 19:00pm
Sunday morning service at 08:00am & 10:00am
For more information about our Recovery Homes
Contact details are:
021 691 9575 / 061 407 9474
Thanks for listening family. Stay blessed and stay connected.
If you missed out on today's radio segment, click here to listen to the full audio version of this testimony: