Testimony of Pastor George
23 November 2022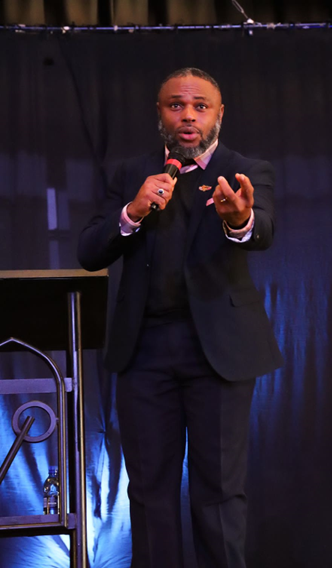 What a powerful life story of a young man, who had his own dreams, his own plans, his own ideas about how his life was going to be. As a young man he had a dream of becoming a movie star and just pursuing a career in the movie industry.
However, while pursuing his movie career, the hand of the Lord came and touched him. He is originally from Nigeria, but moved to Lagos, a city in Nigeria. That was where God really got a hold of him, and he ended up surrendering the dream, the desire he had to pursue a career in the movie industry. He gave his life totally and fully to God.
He left his parent's home at the age of 24. He always had this pull to serve God, but he did not know how, what it was and what it meant, but there was always that pull. He wrote a letter to God, asking God that He wants to serve Him and the whole of humanity. He still has the letter to this day, because for him, that was the beginning of his turning point.
A friend of his introduced him to Victory Outreach. He ended up joining the ministry of Victory Outreach in Lagos. He happened to read one of the church's books called Treasures out of Darkness. He read it in one day, from morning to evening. That was where his heart connected to what the ministry was all about. So, when he finished reading the book, God said to him, "This is the opportunity you've been asking me for, and this is where I want you to serve Me."
This was where he made up his mind, where he decided, that he was going to give up his life for this worthy course. The course (vision) of what the ministry is all about. That is how he ended up changing. It has been an amazing and exciting journey when you give your life to the Lord.
Just coming in, looking for an avenue to serve God and humanity, God takes it and does something marvellous out of it. From helping his pastor, to becoming a pastor himself in Lagos, Nigeria. He eventually got married and in 2012|2013, they found themselves in Johannesburg, South Africa. Currently he finds himself in the mother city Cape Town, where he is a part of the team of pastors. God has been using them in developing people. In the area of marriage counselling, impacting lives and destinies. He had seen God using them in various ways and this is just the beginning.
As a matter of fact, he started a podcast, titled "Impact Podcast", in the form of a devotional, where God's people can break bread with God's word. It airs every Monday morning, and there are many platforms you can listen to them. Some of them are Spotify, or apple podcast or even google podcast. You can also go to our website at www.vocapetown.net\impact
His word of encouragement is, if you have dreams, if you have plans of how your life should be, lay it all out before the Lord. Lay it at the feet of Jesus, drop it at the altar and ask God to direct your life. God will take that dream and fashion it to such a way that it will be on track. God has given you a vision, a mandate, ask Him for the grace, and go after all that He called you to do. Remember, you will not be able to do it outside of the direction and leadership of Jesus Christ.
Listen to "Pastor George Testimony – November 23rd 2023" on Spreaker.
For more information about our church, go to our website at:
Third Wave Nights – Fridays at 19:00pm
Sunday morning service at 08:00am & 10:00am
For more information about our Recovery Homes
Contact details are:
021 691 9575 / 061 407 9474
Thanks for listening family. Stay blessed and stay connected.
If you missed out on today's radio segment, click here to listen to the full audio version of this testimony: