Testimony of Tysoh
08 June 2022
What a powerful testimony of a young man, who grew up in a Christian home where both his parents were pastors. Kids used to make fun of him as a pastors' kid, which made him very rebellious.
He used to play on the worship team, but as soon as the preaching started, he would leave and then come back after the sermon. One day he actually listened to the preaching, and he felt convicted to take God more seriously. He gave his life to the Lord at the age of 15, went to a believers (bible) class, and his life was never the same again.
God is using him powerfully in the music ministry. If he sees there's a need in the church for a keyboard player, he will learn how to play the keyboard just to fill the need. He also taught other children how to play the keyboard as well, bringing children and other people to the house of God. Ministering through music.
He is originally from Nigeria, where somebody heard about him and was invited to the United Kingdom in 2008 where he was offered a position as a Music Director. From there, God really opened doors for him. He left and returned to Nigeria and in 2013, he moved to South Africa, where he studied.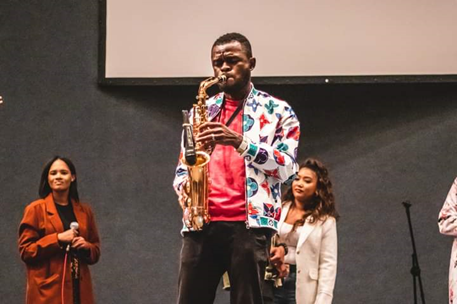 He currently finds himself doing full time gospel music. He also performed with a lot of different renowned artists, such as Benjamin Dube and Kirk Franklin.
He believes that God is working through him through his music. He is travelling all over the country, places such as Johannesburg, East London and Cape Town, where he is using his skills in the music industry. Currently, he is a saxophonist, songwriter, composer, and a recording artist. He believes that God is the rewarder of everyone that diligently seeks Him. He is just so thankful to God that he can bless people through his music.
For more information about our church, go to our website at:
Wednesday Gang nights at 19:00pm
Thursday Service at 19:00pm
Sunday morning service at 08:00am & 10:00am with Jonathan Rubain
Sunday evenings at 17:00pm
Sunday 19th June at 08:00am & 10:00am – Father's Day service (free gift for all fathers)
For more information about our Recovery Homes
Contact details are:
021 691 9575 / 061 407 9474
Thanks for listening family. Stay blessed and stay connected.
If you missed out on today's radio segment, click here to listen to the full audio version of this testimony:
Listen to "Testimony of Tysoh – June 8th 2022" on Spreaker.