THE ULTIMATE PRICE
By P.G. Njoku

Hello and welcome to our blog. We hope you will be greatly blessed by this piece. This past week we commemorated the suffering, death and resurrection of our Lord and Saviour Jesus Christ. It is a series of events which culminated in the resurrection of Jesus Christ which we have come to know and celebrate as EASTER.
According to Genesis, chapter one: In the beginning God created the heavens and the earth. The earth was void and formless and darkness was upon the face of the earth, the Spirit of the Lord hovered over the face of the waters and then God spoke. He said, 'LIGHT BE' or 'LET THERE BE LIGHT', and as a result there was light.
The story of The Creation continued until verse 26 when God created man: "Male and Female created He them" in His image and after His likeness. Subsequently in verse 28, we see God empower, bless and charge man to go and excel all wise. In His words He said, "Be fruitful and multiply; fill the earth and subdue it; have dominion over the fish of the sea, over the birds of the air, and over every living thing that [h]moves on the earth."
From this point man continued to live and explore his environment, the Garden of Eden, where God had placed him. However, by Chapter 3 man was tempted, tricked and deceived by the craftiness of Satan in an appearance of a serpent leading to the fall of man having disobeyed the commands and consequently, man losing his dominion over the earth. Satan took over reign as 'the god of this earth'. As expected this incident agitated the mind of God who initiated the rescue mission for man. This 'rescue mission' was embodied and actualised in and through the substitutionary sacrifice of Jesus Christ which we celebrate as the Resurrection or Easter as the case may be.
Here's what happened:
Matthew 26:36-45
Then Jesus came with them to a place called Gethsemane, and said to the disciples, "Sit here while I go and pray over there." And He took with Him Peter and the two sons of Zebedee, and He began to be sorrowful and deeply distressed. Then He said to them, "My soul is exceedingly sorrowful, even to death. Stay here and watch with Me." He went a little farther and fell on His face, and prayed, saying, "O My Father, if it is possible, let this cup pass from Me; nevertheless, not as I will, but as You will."
 Then He came to the disciples and found them sleeping, and said to Peter, "What! Could you not watch with Me one hour? Watch and pray, lest you enter into temptation. The spirit indeed is willing, but the flesh is weak." Again, a second time, He went away and prayed, saying, "O My Father, if this cup cannot pass away from Me unless I drink it, Your will be done."
And He came and found them asleep again, for their eyes were heavy. So He left them, went away again, and prayed the third time, saying the same words. Then He came to His disciples and said to them, "Are you still sleeping and resting? Behold, the hour is at hand, and the Son of Man is being betrayed into the hands of sinners.(NKJV)
The above scripture is what I call  "The Gethsemane Accord"
He was in despair  
Deeply distressed
Exceedingly sorrowful
Even to the point of death
It was a moment of decision for Jesus Christ
He had the opportunity to either throw-in the towel or stick through it…He indeed stuck through it for us.
Almost all His close allies deserted him.
At Gethsemane….
Jesus was thrown into a great struggle
It involved all His spirit, soul and body
It was the greatest fight He had ever known up to that moment
And knowing that the CROSS and GRAVE were before Him; He was still willing to pay the price…. THE ULTIMATE PRICE.
HERE ARE SOME OF THE PRICES HE HAD TO PAY
He was BETRAYED by one of His very close allies.
He suffered AGONY as we read in Luke 22:43-44

It depicts Anguish, Excruciating pain, distress or intense conflict

It was a moment of separation between Him and the Father… His Father.
He was buffeted and SPAT UPON. This we see in Matthew 26:67
Found NOT guilty, yet condemned to die. Luke 23:14-16 tells us.
SCOURGED … Matthew 27:26
This is the most terrific word in the ancient world.
The sufferer is stripped completely naked
The victim is tied to a two-foot high scourging post
His hands tied over his head to a metal ring
His wrists are securely shackled to prevent movement.
The victim is brutally whipped with a Roman whip called  'The Roman Flagrum' or 'Cat-of-nine-tails'
THE CONSEQUENCES of this kind of scourging:
So many blood vessels are sliced open
There is a profuse loss of blood and bodily fluids
The heart pumps harder and struggles to get blood to other parts of the body
It's like pumping water through an open vessel
And due to huge loss of blood, blood pressure drops drastically,
He suffers excruciating thirst, fainting from the pain and goes into shock eventually.
HE WAS COMPLETELY DISFIGURED…….Isaiah 52:14 (Amp)
Isaiah 52:14: Just as many were appalled at You — His appearance was so disfigured that He did not look like a man, and His form did not resemble a human being–(HCSB)
SCORNED (MOCKED): He was stripped naked publicly and made jest of, in a ridiculing manner.
(Nakedness was viewed as a disgrace, shame and embarrassment)
CRUCIFIED ….Matthew 27:34-35
He was offered vinegar mixed with gall (A pain killer, an anesthetic) twice but he refused.
He instead chose to go through the pain fully thereby paying the ULTIMATE PRICE for our sake.
His joints were all dislocated out of its places.
He lost so much blood, suffered dehydration
He died quicker than expected so they pierced his sides
They cast lots for his garments
His total nakedness was flaunted in humiliation before a watching world.
HE PAID THE PRICE….YES HE PAID THE ULTIMATE PRICE!
– He was wounded for our transgressions according to ISAIAH 53:5. By those stripes YOU are HEALED says 1 Peter 2:24
Surely He bore our griefs (Infirmities, sicknesses, weaknesses and distresses) and carried our sorrows declares  ISAIAH 53:4
RESURRECTION ….. HE IS ALIVE
Matthew 28:1-6
Now after the Sabbath, as the first day of the week began to dawn, Mary Magdalene and the other Mary came to see the tomb. And behold, there was a great earthquake; for an angel of the Lord descended from heaven, and came and rolled back the stone from the door, and sat on it. His countenance was like lightning, and his clothing as white as snow. And the guards shook for fear of him, and became like dead men. But the angel answered and said to the women, "Do not be afraid, for I know that you seek Jesus who was crucified. He is not here; for He is risen, as He said. Come, see the place where the Lord lay.(NKJV)
He was literally raised from the dead
The power of God exploded inside the tomb,
Reconnected Jesus's Spirit with His body, flooded his corpse with life and He AROSE
Just as creation shock when it's creator died on the cross,
Now the earth exploded with exaltation at the resurrection of Jesus.
My soul does magnify the LORD…..He is Lord, He is Lord; He has risen from the death Amen.
YOU ARE WORTH THE ULTIMATE PRICE.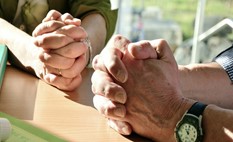 LET US PRAY Lord I thank you for your grace and your mercy and for willing to pay the ULTIMATE PRICE with your life for a sinner like me thereby, winning for me an eternal victory in life. May I forever walk in the full experience of your finished work on the cross. Amen.    
If you have been blessed by this blog. You can read more here.