Are you searching the internet for Family Restoration? You need to check out this powerful Testimony of The Wolfaardt family.
15 March 2023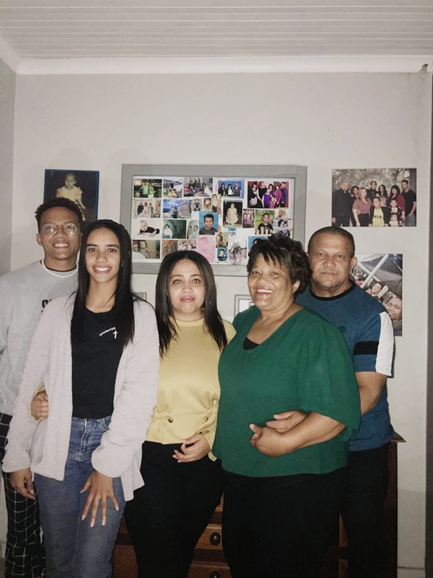 Before coming to know the Lord the Wolfaardt family says that their lives were very different.
To the Wolfaardt children, it was all about partying and fitting in. They were looking for love in the wrong places.
On the 5th of March 2021 the Wolfaardt family son, Marlon, nearly took his own life, by almost committing suicide.
Coming to know about Christ brought them to Victory Outreach. The mother of the Wolfaardt family, Mouline, was inspired by hearing how the power of Jesus was able to change people.
She had heard testimonies when she listened to The Rise Up Radio Segment on CCFM on a Wednesday. She then reached out to the church via Facebook.
Soon thereafter their younger son Marlin and his sister Charmonay attended church at Victory Outreach, and it was there where they encountered the presence of God. God embraced and spoke to their heart and reminded them of their purpose.
His salvation has birthed a new fire within their family and with the support of the extended family of God they remain in awe of God.
Currently Marlon is allowing God to use his life in ministry. Marlon says that he struggled when he was in high school and that is why he is now involved with a ministry called High School Impact (HSI) which reaches teenagers by sharing the gospel.
Natalie is also currently involved in the HSI ministry. She says she chose this ministry because it allows her to share her experiences with the youth. She builds a bond with them to lets them know that getting to know God can be fun.
"As 'n moeder wil ek vir al moeders bemoedig, moet nooit opgee jou kind nie. Al lyk dinge vir jou hoe onmoontlik. Hoe donker, hou aan bid vir jou kind en hou aan liefde wys vir jou kind." – Mouline
"As 'n vader wil ek ook alle vaders bemoedig, hou jou oe oop en op die Here. Die bybel se dat Hy sal ons nooit verlaat nie. Hou aan bid en wees lief vir u kinders." – Clive
"If you have lost someone you love and you feel alone, don't look for love in the wrong places. God is love. Turn to Him." – Natalie
"Trust God, no matter how bad things look. Support people who need it, don't just give advice but walk the road with them. But most of all, put your trust in God." – Charmonay
"I just want to encourage the broken person. Jesus is standing with open arms, ready to receive you. Just call on his name." – Marlon
Listen to "Wolfaardt Family Testimony – March 15th 2023" on Spreaker.
For more information about our church, go to our website at:
Third Wave Nights – Fridays at 19:00pm
Sunday morning service at 08:00am & 10:00am
For more information about our Recovery Homes
Contact details are:
021 691 9575 / 061 407 9474
You can also visit our contact us page.
Thanks for listening family. Stay blessed and stay connected.
If you missed out on today's radio segment, click here to listen to the full audio version of this testimony: