Testimony of Jayson
02 November 2022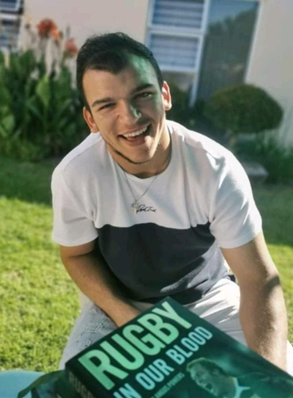 What a powerful testimony of a young man, who grew up in a good family. However, his life changed drastically when he was in high school.
In high school he got exposed to a lot of things. He would go out partying with his friends, smoking and drinking alcohol at 15 years of age. After that, he started experimenting with marijuana. It really had a negative effect on his mindset. He just got involved in the wrong things. After marijuana, he started using cocaine.
After he finished matric, he started working, but he was still partying, drinking, using cocaine. Every time, he would either end up hurting the people around him or end up hurting himself. It got to a point where he did not want this lifestyle anymore, he felt like that it would not benefit him in the long run. The only thing that got him over this addiction in his life, was prayer.
He used to pray that the Lord would help him get over the smoking, drinking and cocaine addiction. These small, everyday prayers really helped him. Eventually, when he overcame his addiction, he prayed to God to send him to a church where he could be happy, a church that was fun and exciting. He was attending a lot of churches, but he was never comfortable in any of these churches.
Three days later, he walked through the doors of Victory Outreach Church, at a high school session, and he was out of high school, but he immediately liked the atmosphere and vibe within the church. It was a year and several months back, but he is still at the church.
God is using his life in a tremendous way. He just ended a six-month course at the Urban Training Centre, which the church offers. It ranges from six months to a one-year course, where you get trained and discipled in the things of God. You grow a personal relationship with God, you are constantly in the presence of God. You learn different aspect within the ministries. He thanks God and he thanks his leaders for investing in his life and sending him to the Urban Training Centre. He remembers his last day in the UTC, he was like, he doesn't want to leave this place, that was how cool it was. That was the best six months of his life.
Currently, he is serving as a new generation leader, where they disciple children between the ages of 11 to 14 years of age. He is also a leader within the High School ministry, where he disciples high school children. He is also opened to serving anywhere within the different ministries.
His word of encouragement to the high school children is to seek the face of God first. He knows there is a lot of challenges and peer pressure within the schools but do as he did. He prayed everyday for God to help him to stop smoking, drinking, and doing cocaine. He did not stop praying, he did not stop seeking God. Just ask God to help you overcome what you are facing, just be open to the Lord. The Lord knows your heart, He knows how you are feeling, what you are going through. If He could do it for me, he can definitely do it in your lives too.

For more information about our church, go to our website at:
Third Wave Nights – Fridays at 19:00pm – with Veronica Meyer
Sunday morning service at 08:00am & 10:00am
For more information about our Recovery Homes
Contact details are:
021 691 9575 / 061 407 9474
Thanks for listening family. Stay blessed and stay connected.
If you missed out on today's radio segment, click here to listen to the full audio version of this testimony: